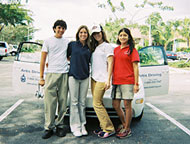 Question: Why would I want the BTW6 Program with teenSMART?
Answer:
58% of teens get into a police reported collision within one year of obtaining their license. teenSMART is all about teaching teens to avoid crashes after the basic training is completed. teenSMART trained students have up to 30% fewer crashes.
Queston: How does the teenSMART program save me money? What are the benefits?
Answer:
teenSMART reduces injury and saves lives. 42% of all teen drivers – that's 2 out of 5 teens - get into a crash each year. teenSMART is scientifically developed to address the top six factors that contribute to most teen car crashes. This program has demonstrated significant reductions in teen driver crashes. Thousands of teens and parents have now benefited from teenSMART training.
Many insurance companies offer a safe driver course discount. They vary from 3% to 20% of your premium each year. Considering that adding a teen driver to your insurance policy can add $1500 (or more) to your premium each year, even a small annual discount can pay for the teenSMART program.
Even if your insurance carrier does not offer a discount in your state/province, avoiding even a single car crash by using the proven crash avoidance skills taught by teenSMART more than pays for the program. Consider the costs of such a crash – auto repairs (thousands of dollars), increased insurance premiums and increased insurance deductibles (if the policy isn't cancelled altogether).
Insurance deductibles are usually $500 or more. teenSMART graduates get into fewer collisions and pay lower deductibles – and that saves you money too.
Question: What's included in the teenSMART program?
Answer:
eenSMART includes a 6 CD set, videotape and workbooks for the parent and teen to meet any government requirements for in-vehicle supervised driving practice.
You can purchase our teenSMART Home Study Stand-Alone Crash Avoidance Program, but we recommend our Premier Program because it includes 4-6 hours of additional professional in-vehicle instruction to anchor teenSMART skills and address individual issues missed in the first __ hours.
More detailed answer: The teenSMART Program has a number of components. These include:
Computer-based training: The computer training is a series of full-motion video driving simulations that come on a set of 6 CD-ROMs that your teen loads on the home computer.
Parent Guide and Student Workbook: These instructional manuals guide you through all the steps of the program including the Parent-Teen activities. These activities include drive time in the vehicle with the parent and the teen.
Videotape: This video includes lessons presented by mature teens in a fun and informative "MTV-style" format. The lessons include discussions about risks and avoiding crashes. The video lasts about an hour and is fully integrated with lessons in the other materials.
Driving Practice Manual: This manual helps parents meet any mandated, in-vehicle supervised drive time requirements. It includes over 50 activities that provide over 70 hours of in-vehicle structured exercises.
Insurance Discount Certificate: There is a certification test at the end of the computer time. Successfully completing teenSMART may qualify your teen for an insurance discount (varies by carrier and by state/province).